Chipotle Mexican Grill and Two Minutes of Lasting Love by Laura Esquivel
Agency; Bernstein & Andriulli, NY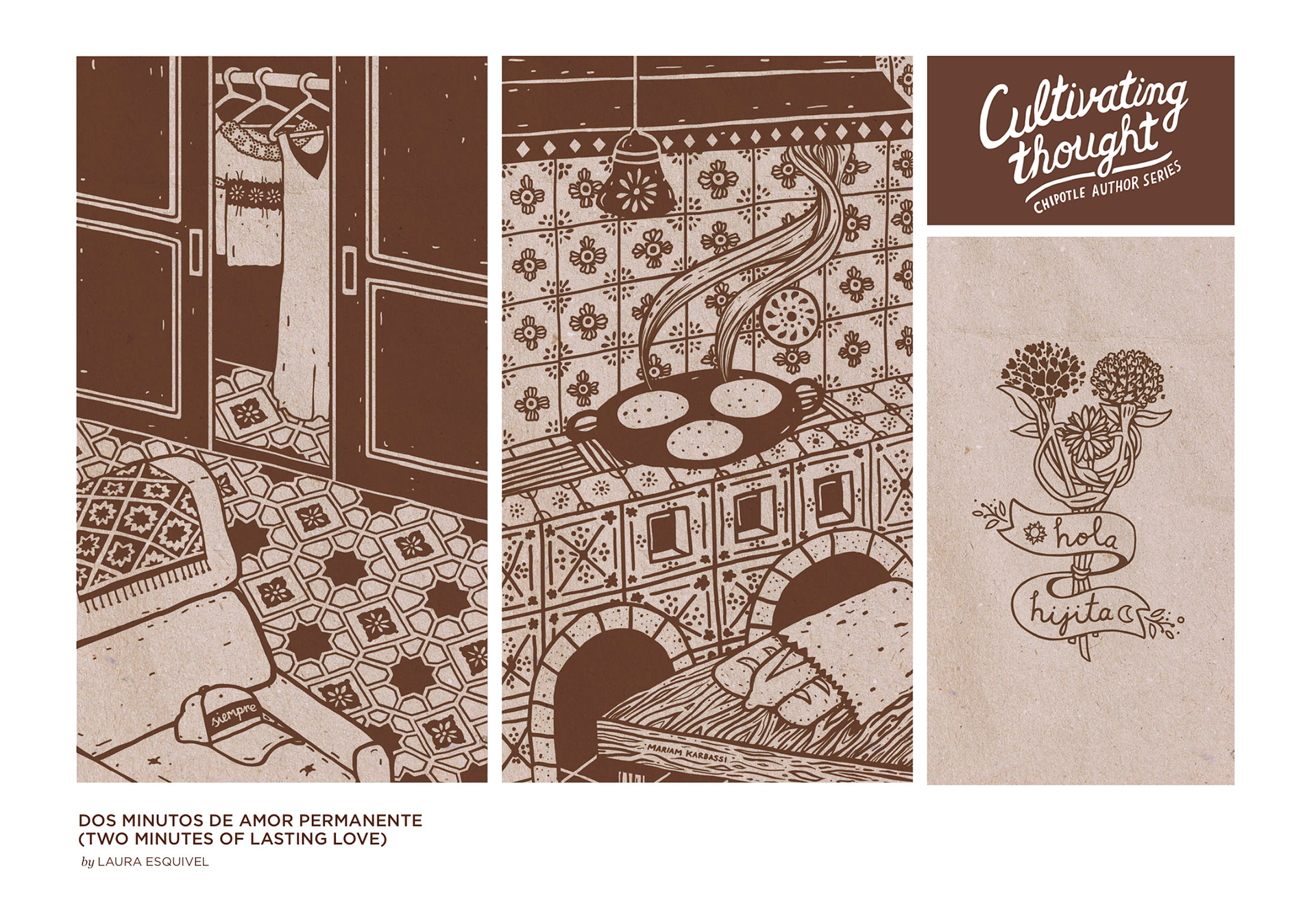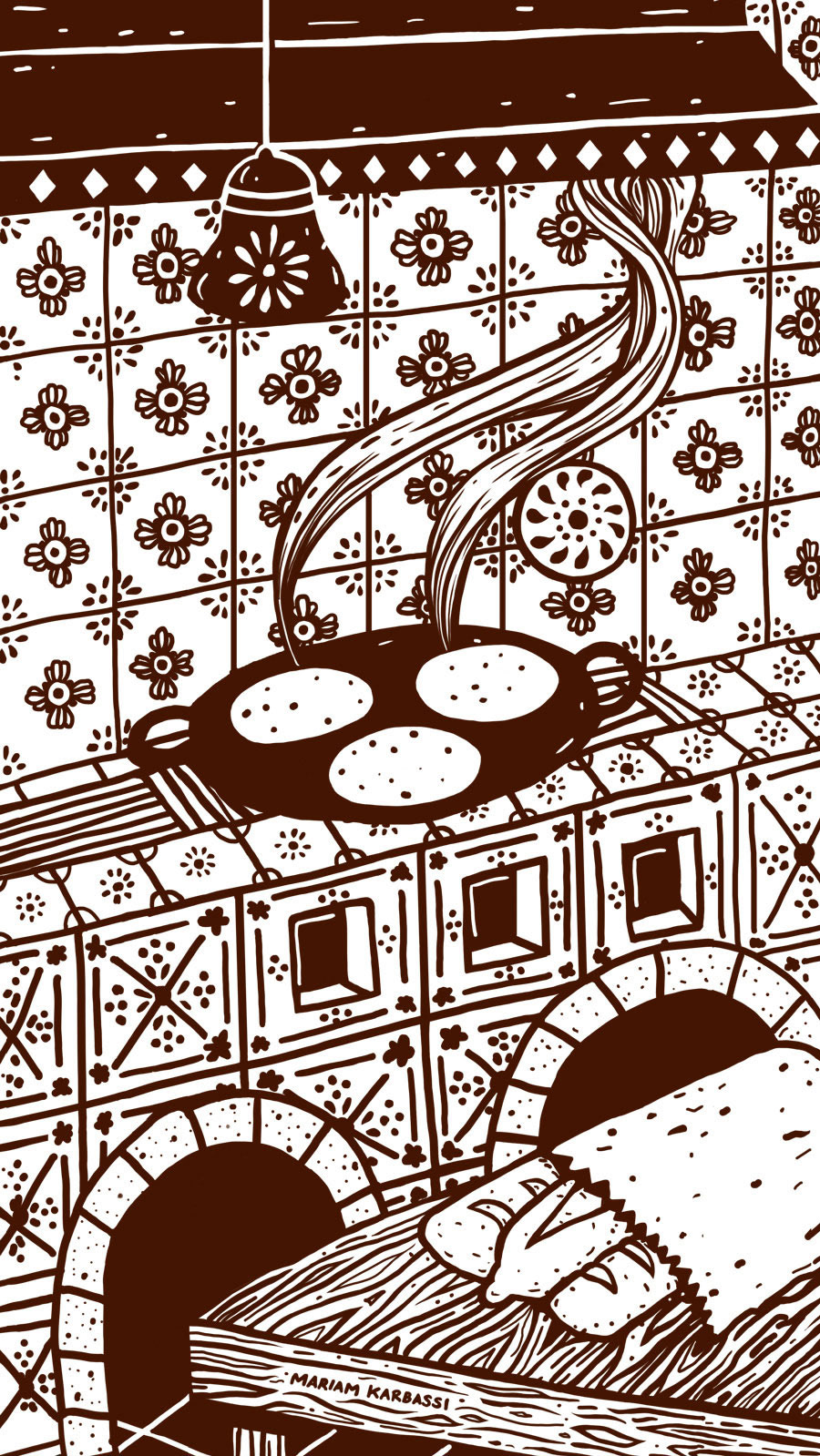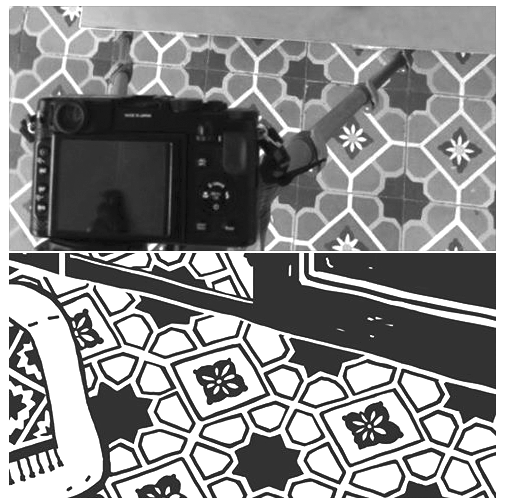 TWO MINUTES OF LASTING LOVE
Laura Esquivel

If for some reason I could see my late parents again, if I could see them, hear them, caress them again, I am sure that I would not mind if I discovered a new wrinkle in their faces. Nor observing that their hairlines had receded in the years since we last saw each other. I would not fixate on their clothing or their external appearance, no. I would run to them and melt in a long embrace, where I would remain for a while. It would be wonderful to feel the love they gave me one more time, to perceive the familiar scent of their clothes and hair; that scent I would diligently seek out in the hat my father left on his chair, or in the blouses my mom left in her closet.
Words have life, memory, when you hear them you travel to the past.
It would be wonderful to hear them say "hello, little daughter" again. Daughter. That word disappeared when they died. I have not been a daughter for a while now. I am a mother, grandmother, sister, aunt, cousin, friend, but no longer daughter, and I long for that title coming from their mouths. Words have life, memory, when you hear them you travel to the past. You travel to your mother's home and smell the tortillas heating on the comal. You listen to your father's footsteps as he comes home from work with a bag of bread under his arm. The sounds occur one after the other swiftly, and the memories fill you with joy. I would like to feel my mother's hand caress my forehead like when she put me to bed, or laugh at the stories my dad would tell me in the evening. I know that if I could just hug them one more time, I would feel at home. I would feel protected, loved. The more I think about it, I realize that by imagining it, it is already happening. I make it true in my heart, because beyond the world of shapes and time, there is a world that remains untouched: the world of Love. And it is always available.

DOS MINUTOS DE AMOR PERMANENTE 
Laura Esquivel

Si por alguna razón pudiera encontrarme con mis padres muertos. Si fuera posible verlos nuevamente. Escucharlos. Acariciarlos. Estoy segura de que no me importaría para nada descubrir en su rostro alguna arruga nueva. Ni observar que habían sufrido pérdida de cabello en los años que llevamos de no vernos. No me fijaría ni en su ropa ni en su aspecto, no. Correría a su encuentro y me fundiría en un largo abrazo con ellos y así me gustaría permanecer por un largo rato. Sería maravilloso sentir nuevamente el amor que me prodigaron. Percibir el familiar aroma que despide su ropa y su cabello. Ese olor que afanosamente buscaba en la gorra que mi padre dejó sobre un sillón o en las blusas que quedaron colgadas en el ropero de mi madre.
Las palabras tienen vida. Memoria. Al escucharlas uno se remite al pasado.
Sería increíble volver a escucharlos decir "hola hijita". Hija, esa palabra que desapareció cuando ellos se murieron. Hace tiempo que no soy hija. Soy madre, soy abuela, soy hermana, soy tía, soy prima, soy amiga, pero ya no soy hija y me encantaría recuperar mi título al momento en que ellos me nombraran. Las palabras tienen vida. Memoria. Al escucharlas uno se remite al pasado. Viaja a la casa materna y huele las tortillas saliendo del comal. Escucha las pisadas de su padre volviendo a casa después del trabajo con una bolsa de panes bajo el brazo. Y los sonidos se suceden uno tras otro velozmente y los recuerdos nos llenan de gozo. Me gustaría volver a sentir la mano de mi madre acariciando mi frente como cuando me llevaba a la cama a dormir o reír con las historias que mi papá me narraba por las tardes. Sé que si pudiera abrazarlos nuevamente me sentiría en casa. Me sentiría protegida. Me sentiría amada. Mientras más lo pienso, me doy cuenta de que al imaginarlo ya lo estoy haciendo. Que yo lo hago realidad en mi corazón, pues más allá del mundo de las formas y del tiempo, hay un mundo que permanece intacto. Es el del amor. Y ese siempre está disponible.
Set of illustrations for Yoi, Agave Water
Agency; Gran Salón México
Bottle design by Ariel Rojo